A guide to shared ownership.
"Shared ownership is an ever-growing alternative method to use when purchasing your first home."
Though it's relatively unheard of by many Kiwis, 'shared ownership' is not a new idea. These days there aren't many financially flexible options when it comes to buying a house, and this is where shared ownership comes along to change that!
'Shared ownership' is an ever-growing alternative method to use when purchasing your first home. If you're serious about getting your foot onto the property ladder but your options seem unrealistic, this could be the solution to make your dream a reality.
Let's get down to brass tacks on 'shared ownership' so you can decide if it might fit your circumstances and help get you into that first home.
What is shared ownership?
First and foremost, it means you initially share the ownership of a property with a third party. So, instead of owning 100% of it, you may have enough to buy 75% to 90% of a house. And a third party, or co-owner, invests with you – owning the other 10% to 25% of the property.
If you have a steady paying job… you might be contributing to Kiwisaver… and you have some cash saved up – but not quite enough to get a home loan – YouOwn might be able to help you get a foot in the door.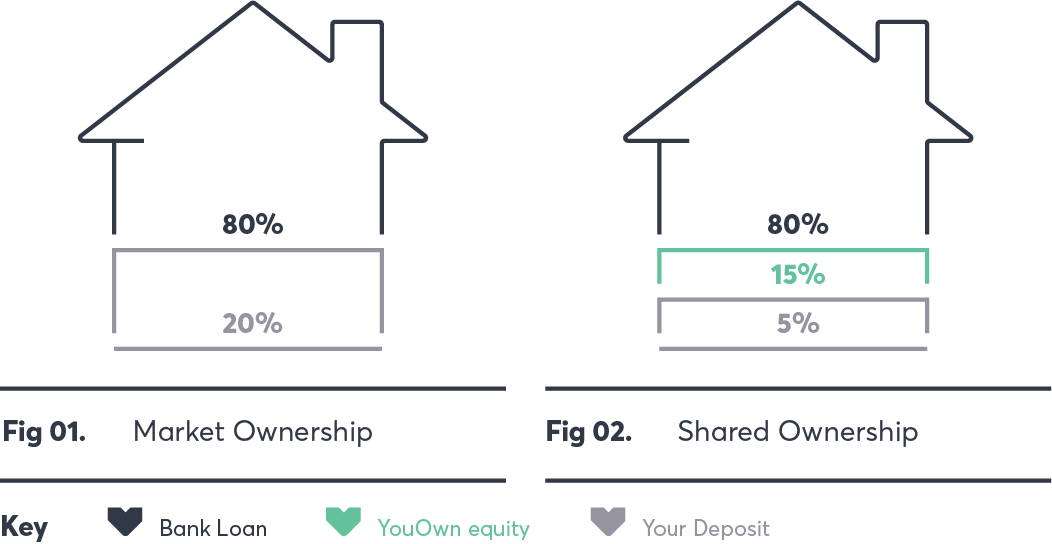 Shared ownership with YouOwn is an alternative to a low equity loan from a bank.
Banks have higher interest rates for borrowers with less than 20% deposit and they add an additional margin on top of the interest rate called a low equity premium. This low equity premium is between 0.25% and 1.5% depending on how much deposit you have.
This makes the interest rate for a low equity loan very expensive at 5.35% to 5.95% (for a two year fixed rate) depending on which bank you go to. Compare this to 3.7% from YouOwn.
Have a look at the interest rates for home loans on the website of your bank.
Who is YouOwn and where do they fit in the picture?
YouOwn is New Zealand's first privately-funded organisation established to offer a shared ownership product for first time buyers. We want to lend a helping hand to prospective homebuyers through a programme that's easy to understand and simple to engage with.
Our journey doesn't stop once you have your keys, we help you as you reach the five-year mark and beyond – as you work towards securing the whole home for yourself.
YouOwn is independent of any builders, real estate agents, and home loan lenders. We are a privately funded programme. That means there is no income cap or eligibility criteria specified by the government. We welcome everybody who's interested in co-ownership with us, but it's our philosophy to give preference to first home buyers.
How does that make me a homeowner if a third party co-owns the property?
Throughout the five years of owning this 10-25% of the property, YouOwn is just a passive owner – in effect, the house is yours to do what you want with (which includes pinning things on the walls and changing the carpet – something you can't do when you're renting).
Your house is on its own title, and together as co-owners, you and YouOwn own the property as tenants in common. However, you are responsible for all ownership costs such as rates, maintenance, and insurance (as you would be when buying a house solo).
After five years, you can buy YouOwn's share in the home when you are able to – which then renders you a full homeowner!
The best thing? You have one foot on the property ladder, no more worries or stress with renting, and have the freedom and flexibility of living in your own house – and creating your forever home.
Do I have to pay a fee to YouOwn?
Yes, you are obliged to pay a monthly equity charge on YouOwn's portion of the home. However, your monthly repayments are often cheaper than if you have a home loan over the whole house, so it works out in your favour.

What if I don't have a 20% deposit?
Good news! The required deposit is only 5%.
Is shared ownership suited for me?
First of all, to be eligible for this programme, you must be a New Zealand Permanent Resident or Citizen, have a clean credit history, and be buying the house for you to live in. If you tick these boxes, you must then also have:
A deposit of almost 5% or more.
A decent amount of KiwiSaver funds or savings.
Minimal (and manageable) debts, maybe less than 10% of your income.
A steady income (total of around $120,000 combined household income).
These factors ensure that the necessary repayments and long-term commitments are achievable.

Can I see an example of how the financial setup might look?
For example, a property valued at $600,000 will have a 5% deposit equating to $30,000. However, remember, you're initially only purchasing a share rather than the whole property, so in reality, you will be paying even less than this.
For example, if you choose to go for a 75% share in a property valued at $600,000, you will need a deposit of $30,000 (as opposed to $120,000 required by most banks).
Things to bear in mind:
If you wish to increase your share of the home, you would need to have the property valued again.
If the prices of properties in your area have increased, then it could mean that you'll be paying more than you were for your initial share.
You'd also have to pay the valuer's fee each time you wish to increase.
Will I need legal advice?
Before signing the co-ownership documents (sale and purchase, home loan and shared ownership agreements), you're encouraged to seek independent legal advice.
A solicitor undertakes the conveyancing transaction for both sides. This involves drawing funds from the bank, YouOwn and your KiwiSaver provider, paying the developer on settlement and registering the home loan on the title.
You and YouOwn share the legal cost of conveyancing in accordance with your respective shares of ownership.
I'm still not sure. What are the pros and cons of shared ownership?
The pros:
Shared ownership gets you on the property ladder as an owner-occupier without overstretching yourself as you might have to in other programmes. You can determine how much you can afford at the beginning of the process, whereas outright ownership requires a much bigger initial financial investment.
The third party that invests in your property (in this case, YouOwn) is a passive owner; the house is yours to do what you want with. Essentially, shared ownership is very similar to approaching the bank of mum & dad, except with the addition of equity charges.
The deposit is low at only 5%. This is much more of an achievable goal for the majority of first-time buyers, compared to 20% when buying a house on your own.
Your monthly repayments are often cheaper than if you have a loan over the whole house.
You're free to alter the house but must comply with standard council requirements and let YouOwn know.
You can increase your share of the house until you own 100% of it.
You can sell your house on the open market and you can rent your house out.
The cons (and their counteractions):
Not all lenders offer home loans for shared ownership.

However, YouOwn can help you find lenders, and BNZ alongside Kiwibank have teamed up with YouOwn for this exact reason.

The selection of houses you can buy through shared ownership is more limited.

However, they're mostly brand-new builds which means they're amazing quality homes that no one else has lived in.

Capital gains or losses are shared relative to ownership.
As well as loan repayments, there is an occupancy charge on the share the third party owns.

Think of this as a 'thank you' payment to a friend lending you some money, and bare in mind that in this type of programme, you'll be moving towards ownership much quicker than in any other programme.

You pay 100% of the rates and insurance

This would be the same in a full-ownership situation, so it's not really a negative thing.

An additional fee will be payable if you sell within the first five years.

However, again, when you buy your first home it's often because you've set your heart on somewhere that you really want to make your own and to fit in with your lifestyle. If you carefully consider where you want to live and what you hope to achieve in your new home, in theory, there should be much fewer reasons requiring you to relocate before five years is up.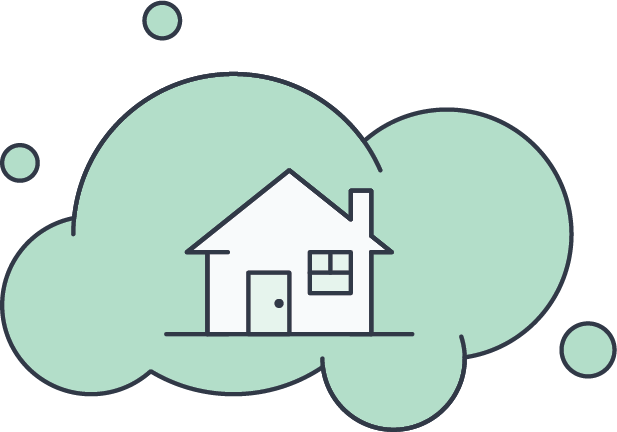 Is this for you?
If you think 'shared ownership' might just be what you've been hunting for, then follow these steps below to see how you can start your journey!
Apply: Check out our eligibility criteria and register your interest online.
Plan and pre-approval: If you're eligible we'll give you a rundown on our processes and link you up with a bank who can give you a loan.
Purchase: Together, we sign the sale and purchase agreement as co-owners and pay the developer a deposit. We sign a legal agreement that specifies our joint rights and obligations.
Settlement: We help you complete documentation to withdraw any KiwiSaver funds (if applicable) and you sign the loan documents with the bank.
Move in: The balance of the purchase price is paid, the bank issues a home loan over the property and you move in!
Weigh up the likelihood of owning your own home via the traditional routes of saving a 20-25% deposit. If it looks like a distant dream, consider speaking with YouOwn about new, more feasible opportunities. 'Shared ownership' is a foot in the door that may never have come about otherwise, and with that, a real sense of achievement and relief will follow.
Check out our video to find out more about co-ownership.