Door Finally Opens To Home Ownership For Tauranga Family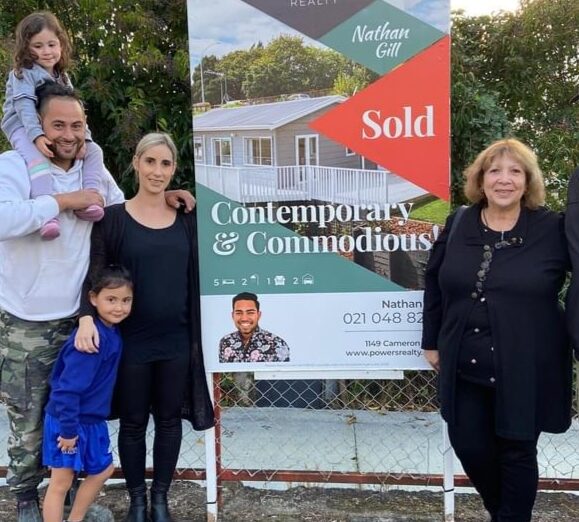 With steady jobs, a combined income of almost $200,000 and a sizeable deposit saved, buying a home sounds like a straight-forward process for Kim and Corey Samuel, and Kim's parents, Angie and Michael Ryan.
But their experience has been far from easy. It's only thanks to YouOwn that they now have the keys to their very own front door on Cameron Rd in Gate Pa, Tauranga.
"We're all pretty excited," Kim says. "We finally did it!"
The foursome had been looking to buy a large home in Tauranga together so Kim and Corey's three young children could have a stable place to grow up, and the family could look after one another as Kim's parents grow older.
Kim manages Vivo Hair and Beauty's Bethlehem salon, her husband, Corey, is a self-employed builder, and Kim's step-dad, Michael, is a truck driver. Together, the trio earn good money and had managed to save a $95,000 deposit – yet still it wasn't enough.
"The housing market here in Tauranga is so crazy," Kim explains. "We have been trying to buy for a few years. But we were always just a few dollars short of our 20% deposit. We couldn't quite get there."
The family's solicitor referred them to financial advisor, Matt Isbister, who was the first one to tell them about YouOwn – a privately-funded co-ownership programme that launched in the Bay of Plenty in late 2020.
YouOwn solves the deposit gap for people by essentially taking a small ownership stake in the new home. After five years people can buy out YouOwn's share, so eventually people own their property outright.
In Kim, Corey, Michael and Angie's case, YouOwn contributed 15% of the money required to buy their $875,000 property.
"It's a 1970s house but it's recently been all renovated. It's a big five bedroom house. My parents have got their own lounge, a kitchenette, bathroom, bedroom – everything. So they've got their own area on one side of the house, and we've got the rest," Kim says.
"We're pretty excited. Just to know that we've set our kids up for their future as well and we've got our foot on the property ladder. Now we're in the market we can move around, although we've all agreed that we don't want to sell this house. We will keep it as the family home."
Both couples feel fortunate to have been introduced to YouOwn as they hadn't previously heard of the programme. They were initially unsure about a third party owning a share in the property but are comforted by the knowledge they can eventually use their equity to buy out YouOwn altogether.
Financial advisor Matt Isbister says the inability to save a large enough deposit and/or personal debt are usually the main barriers people face when trying to get a mortgage from a commercial bank.
"You've got to tick a lot of boxes just to get across the line. That doesn't necessarily mean that you can't service a mortgage, it's just that the banks can afford to be picky because there's that much business out there."
Kim and her family were ideal candidates for YouOwn co-ownership because they had a sizeable deposit and steady incomes.
"YouOwn is a great programme and it's a privilege to help families like Kim, Corey, Michael and Angie because it really does change people's lives," Matt says.
"In my line of work you come across many people who have been shut out of the housing market because of banks and how conservative they have to be. YouOwn provides good, hard working Kiwis with an opportunity to get into their dream home or to get onto the housing ladder so it's awesome from that point of view."
YouOwn Executive Director Nigel Spratt says a total of 75 homes have now been settled nationwide (primarily in Auckland), requiring $9 million of capital from YouOwn over the past three years.
The programme has only recently been introduced in the Bay of Plenty, and Kim & Co are the third home to settle in the region, with several more in the pipeline. "The secret to this family's success is they are two households coming together as one. They were paying two rents and two lots of electricity and water and so on. It's now much cheaper for them to be paying a mortgage together so we're thrilled to have been able to help them achieve their home ownership goal."
Last year BayTrust invested $2 million in YouOwn, providing enough equity to help purchase approximately 20 homes in the Bay of Plenty using the co-ownership model. "This number will grow significantly in the future as funds are returned by homeowners and re-invested," Nigel explains.
Terri Eggleton, BayTrust's Impact Investment and Partnership Manager, says the organisation is looking forward to seeing what a difference this impact investment will make given how difficult and expensive it has become to buy a house in the Bay of Plenty. "Home ownership is out of reach for many middle-income New Zealanders simply because they cannot save a large enough deposit. It's wonderful to see YouOwn helping local families to bridge that gap."
BayTrust now devotes around 10% of its ~$200m global investment portfolio to impact investments. Each investment is designed to create positive change for Bay of Plenty communities specifically focusing on housing, employment, and environmental issues. Last year BayTrust also granted $6.8m to 212 different community organisations across the region.